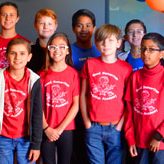 Our Elementary (K-5) considers all aspects of our student's development. We realize their first years in elementary are crucial in establishing their positive attitudes and disposition toward learning. We highly value their natural desire to learn through their creativity and self-expression. Our main focuses are on: sharing the love for the Lord, building on the student's spirit of cooperation with each other and respect for others, respecting student's ideas, and developing a self-satisfaction in our student's personal academic growth. We challenge our students and encourage them to make the best of the abilities God has given them, while still having fun every day. The day begins with Jesus Time, where we open with prayer, pledges, read the bible, and sing to the Lord. Parents are always invited to share this time with their student. Our classroom curriculum includes Math, Language Arts, Reading, Science, Social Studies, Handwriting, Geography, Writing Skills, and Bible instruction. The classroom instruction is accompanied by weekly participation in our specials, which include Spanish, Health, Art, PE, Library, and Music. Year after year our students have scored well above the national average at every grade level on the national standardized achievement test.
We are advancing technologically, as well.  Our Third through Fifth grade classes have iPads issued to each student, while our Kindergarten, First and Second grade classes have iPads and computers available for classroom use.
After school activities are also available to our students.  These include, Choir, Art Club, Student Government, as well as a before and after care program for families whose schedules require extended hours.