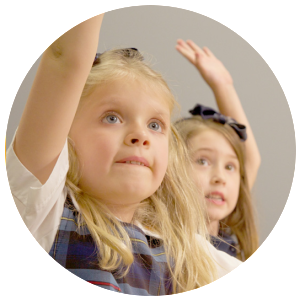 Our children and their development have always stayed the same, but academic pressures on parents, children and teachers have intensified. Studies show that early childhood developmental programs have a tremendous influence on a child's chance at academic success. Skills that used to be taught in first grade are expected of our 1 to-4-year-old children in preschool classrooms. Our children have been on this earth for only 12, 24, 36, 48 months and this is why it becomes ever more crucial to remember the value of play in the classroom.
The purpose for our Toddler and Preschool program is to help create a basis for healthy development. Our learning environment, which is their third teacher, focuses on satisfying the child's need of success/worth, fun/enjoyment choice/freedom, and belonging /respect/love. The children are helped to think through problem solving with hands on experienced which develops critical thinking, logical thinking and positive social finesse which are needed as they mature. Instilling Christian values assures children that are full of hope, joy and love.
We believe that our role as early educators is to encourage a child's sense of wonder, active imagination, ability to relate to other people, willingness to try new things, explore, promote independence, have fun and allow a natural love of learning in the classroom. Children can achieve their best with a curriculum that is appropriate and that builds upon itself year after year.
Most importantly we recommend Parents choose a school environment that fits the child's personality and not look for an environment that the child has to fit into.